To be effective in responding rapidly and comprehensively to requests for assistance, EWH depends upon a small but very committed staff supported by interns and volunteers. We welcome your involvement. Please contact us for more information about any positions.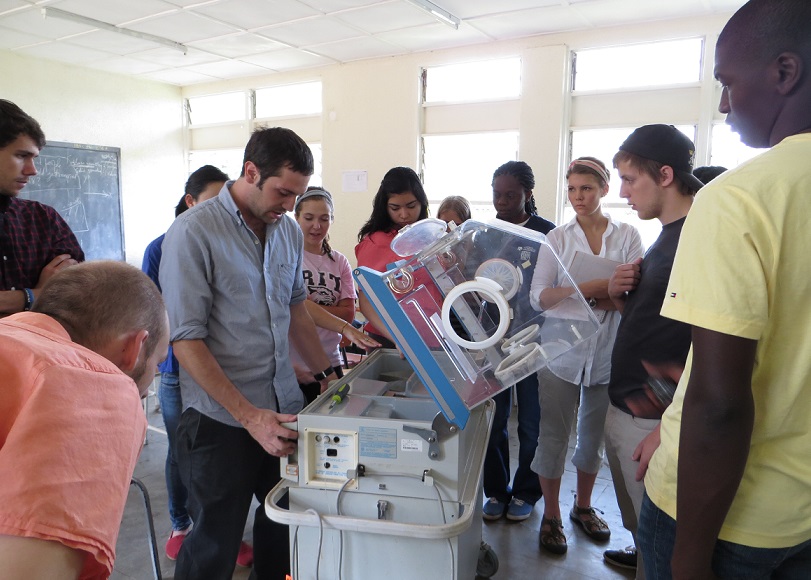 Jobs
We are always interested in receiving resumes from highly qualified individuals with experience in global health and biomedical technology.
We are currently Reviewing Applications For The following position - Thank You To Everyone Who Applied:
Job Title: Coordinator, Summer Institute
Reports to: Director of Student Programs
Location: Nine months of the year in Durham, N.C. and three months in Africa or Latin America
The Program: Engineering World Health annually sponsors at least three Summer Institutes, in Rwanda, Nicaragua, and Tanzania, for a total of 70 to 75 students. These students – about 80% of whom are undergraduates (mostly engineering majors) and 20% are graduate students – spend a total of nine weeks in country. The first four weeks, they participate as a group in language classes and lectures and labs learning hands-on repair skills. The next five weeks, students go in groups of two or three to work in local hospitals. There, they work, either independently or under the direction of hospital technicians, to conduct inventories, repair medical equipment, and create special projects of lasting value to the hospital. Common machines encountered include autoclaves, centrifuges, pulse oximeters, aspirators, nebulizers, and infant incubators.
The job of the Summer Institute Coordinator is a year-long position with several major components:
1) Preparing for the trip:
Work with EWH's partnering educational institutions – Duke University and Texas A&M – to hire lecturers, lab instructors and On the Ground Coordinators to staff each of the three sites.
Hire language schools for all three sites.
Work with Director of Student Programs and CEO to finalize contracts for all the above.
To the degree possible, contact partnering in-country hospitals re: program participation.
To the degree possible, arrange homestays for all three sites.
Compile student applications and financial aid applications; answer student applicant inquiries.
Work with CEO and partnering educational institutions to evaluate applications.
Work with EWH Director of Finance to finalize payments, insurance contracts, and flight arrangements for staff.
Serve as On the Ground Coordinator for one of the three EWH Summer Institute sites. Arrive in-country one month before program starts. Fulfill all OTGC functions: hospital/clinic partnering; supervision of language and engineering trainings; find and/or finalize homestays; serve as advisor/supervisor of students throughout. Speak with relevant hospital administrators and government personnel.
Through skype, email and phone, supervise OTGCs at the other two SI sites. Serve as overall manager/communicator/advisor about difficulties encountered.
Maintain communication with partnering Duke University offices and Texas A&M staff as well as EWH staff in the U.S.
2) One month prior to SI, and during SI
Skills required:
B.S. in engineering or sciences.
Experience in and enthusiasm for living in the developing world.
Ability to manage a complex project
Ability to communicate fluently in Spanish, or competently in Swahili or French.
Ability to assist students to repair medical equipment.
Ability to teach 4-week lab course in basics of medical equipment repair a plus.
Must be of mature temperament, able to demonstrate evidence of good judgment. Prior work with college-aged students a plus.
Ability to work with an international team.
Preference will be given to alumni of the EWH Summer Institute.
The application period for this position is closed. We are now reviewing our applicants. Thank you.
Internships
From time to time we have opportunities for interns. In the past, interns have helped us with business planning, marketing strategies and legal issues. For information about what is currently available, please contact us.
Volunteer positions
We welcome volunteers, especially student engineers, recent graduates, and retired engineers and BMETs. A great way to get involved as a volunteer is to form or join and EWH Chapter. Past volunteers have helped with the EWH Kits program but some have also had the opportunity to travel to developing countries to assist local coordinators of the Summer Institute program. Additionally, we are always looking for volunteer instructors to help teach our BMET Training courses.