Our friends Reece Stevens with FreePulse and David Kovacs with Access Health Care Nepal have teamed up!
Reece Stevens (left) & David Kovacs (right)
EWH is happy to share this announcement from our friends at Sparo Labs:
Sparo Labs Launches Wing to Give Peace of Mind to People with Asthma
ST. LOUIS, MISSOURI — Sparo Labs, a digital health startup based in downtown St. Louis, has launched sales of its flagship product, Wing®. Wing is the first over-the-counter, FDA-cleared smartphone sensor for measuring and tracking lung function. This means anyone can purchase Wing – no prescription necessary – through the Wing website at www.mywing.io to proactively manage asthma or their respiratory conditions.
Wing is a pocket-sized sensor and cloud-connected app that provides peace of mind to parents of children with asthma. For children, asthma is the #1 condition causing ER visits, hospitalizations, and missed school. Asthma is currently managed reactively as many people struggle to recognize early warning signs of an asthma attack until they are having trouble breathing and it may already be too late. However, almost every asthma attack, ER visit, hospitalization, and death due to asthma is preventable.
In partnership with the GE Foundation, EWH continues to train BMETs and BMET instructors around the world. Here's a look at how our programs, new and old, are doing:
Honduras:
EWH transitioned the BMET Honduras program over fully to our educational partner, INFOP, in 2014. Previously, no BMET Training program existed in Honduras, and lack of functional medical equipment is a major healthcare barrier in Honduras, as it is in many developing countries. INFOP now owns the program locally and currently accepts and graduates 20 students through this program each year.
This fall, board member and former BMET Honduras Country Coordinator Justin Cooper successfully raised funds to supply INFOP with additional training equipment. The additional educational tools will help maintain the quality of the program. Find out more about Justin's continued work with the BMET Training program in Honduras: https://www.youcaring.com/engineering-world-health-honduras-bmet-609847.
Cambodia:
In April 2016, EWH handed full control of the BMET Cambodia program over to the University of Puthisastra. In September, 10 students from the first Cohort graduated! Cohort 2 and Cohort 3 completed 6th and 4th semester respectively, and students prepared for October's in-hospital mentoring and internships following the classroom session. Cohort 2 is busy preparing for their final exams in December.
Ung Kunthear and Dhritiman Das, EWH's mentors and trainers in Cambodia, were both hired by the University of Puthisastra to continue their work with the BMET Training program.
Hello Friends,
October is one of our busiest months of the year. Our university Chapters inspire, educate, and empower members of their community to become active in global health. We take account of our work as one fiscal year ends and another begins. And, of course, the applications for next year's Summer Institute start coming in.
---
Summer Institute 2017
EWH is now accepting applications for SI 2017. Please share information about our programs with anyone you know who might be interested! Find out more by visiting our website or signing up for a webinar.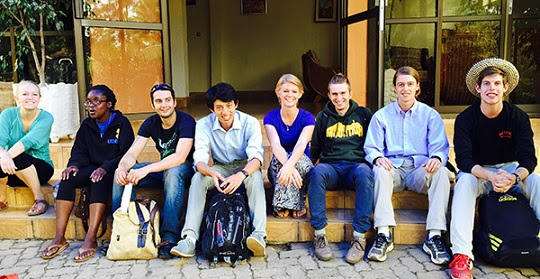 Written by Ally Ngulugulu, who was able to receive technical training in Tanzania alongside Summer Institute 2016 students thanks to the support of BETA, Intl.
A common phenomenon in most developing countries is the accumulation of medical devices which are unusable because they are inappropriate for local needs, are improperly installed, or they are defective at delivery. End users (e.g. medical staff and lab technicians) are often untrained in equipment usage or maintenance which leads to the lack of proper health service. At Arusha Technical College in Tanzania, we are educating Diploma and Bachelors Degree students in the Electrical and Biomedical Engineering (EBE) program, but our faculty needs more training. This is where Duke/EWH Summer Institute in Usa River, Tanzania, has helped us so much. As EBE Head of Department, I was fortunate to attend SI2016 with my colleague, Lufunyo Lupenza, where we learned side-by-side with American & European college students.