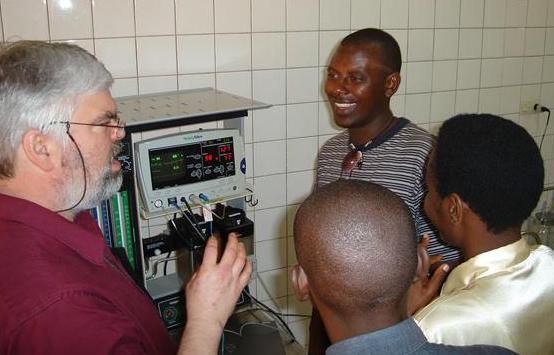 Engineering World Health in cooperation with GE Foundation has embarked on a new Healthcare Technology Management (HTM) project in Ghana. The 'Center of Excellence' (COE) project uses a trident approach consisting of 'Center of Excellence' development, BMET Mentoring, and Interactive HTM Workshops. COE development will be guided and measured using a framework of Key Performance Areas in five dimensions of excellence; Financial, Internal Business Process, Innovation and Learning, Customer Focus, and Leadership.
The project is being implemented by Daniel Hardy, CBET, CRES, as the Country Coordinator for Ghana. Dan has nearly 30 years' experience in Clinical Engineering and various increasing management responsibilities. He has managed hospital medical equipment maintenance shops and taught BMETs in developing countries before. Dan has worked as a project manager in the field and consultant for HTM and medical equipment in developing countries.
GE Foundation is making donations of sophisticated, state-of-the-art machines in Ghana and other countries, and technicians need updated knowledge to support the advanced technology being installed by GE and other equipment manufacturers. Based on interviews with BMETs on assessment trips and data collected on local hospitals, EWH is establishing these new models to incorporate remote, online learning and support for technicians and in-person mentorship hours with experts that accommodate technicians who are already practicing at full-time jobs.