Summer Institute Alumni: New Opportunity for You!
If you enjoyed your EWH Summer Institute experience and are looking for more opportunities to apply what you learned during the program, we have good news! EWH is excited to announce a Winter Institute in Guatemala with opportunities for SI alumni to participate as On The Ground Assistants, OTGAs.
For this new program EWH has partnered with two universities: the Rochester Institute of Technology and George Mason University. Students from these universities will take the Summer Institute training course on campus during the fall semester to prepare for assisting hospitals during their winter break.
OTGAs will be a small, selective group of Summer Institute alumni who will provide guidance to the new students. Along with repairing equipment, OTGAs will maximize the group's impact in the hospital by providing technical, cultural, and interpersonal advice. There will also be an in-country coordinator and technical assistant to help with challenging repairs or other issues. All participants will be provided with a homestay, all meals and in-country transportation. Participants must purchase their own flights.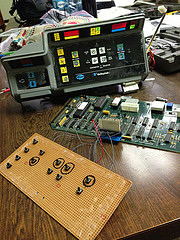 OTGAs receive a discounted tuition of $1,500 to cover in-country costs. Applications are due by October 1st. You will be informed of acceptance by October 20th, and will need to respond with a $1,000 deposit by November 10th. A pdf of the application materials is available for review by following the link below.

OTGA Application pdf download for review.
There is a $20 application fee. If you would like to apply, please type in your first and last name and click "Pay Now." Once you pay the application fee, the online application will appear for you to fill out.
If you have any questions regarding this program or the application, please email us at This email address is being protected from spambots. You need JavaScript enabled to view it. .
Guatemala Schedule
Sunday December 28th
Arrive in Guatemala City by 8pm, shuttle to Antigua, meet host families.
December 29th – January 16th (except weekends)
9am – 4pm: Work in host hospital
December 29th - January 2nd - Evening Spanish Classes
Weekends: January 3rd – 4th and 12th - 13th
Sponsored Excursions
Saturday January 17th
Final conference
Sunday January 18th
Depart Guatemala City by 3pm
Apply to be an OTGA in Guatemala!
$20 application fee