Makerere University EWH Chapter Reaches Out to Hospitals in Uganda
Written in collaboration with KYAGULANYI ALLY, President of the EWH Makerere Chapter.
Each year, since 2015, the Makerere University Biomedical Engineering Students Association (MUBESA) and Makerere's EWH Chapter have collaborated on the Biomedical Engineering Hospital Outreach Project, or BME-HOP. BME-HOP is a volunteer program originally initiated by Makerere students to reduce the rates of equipment failure in Ugandan health facilities.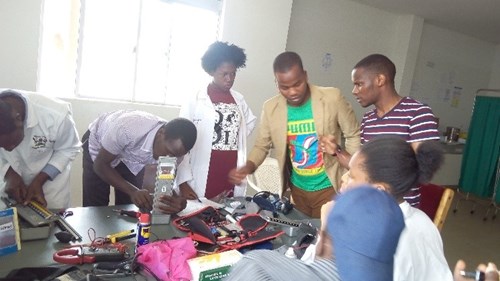 Much of the medical equipment in Uganda is out of working order. However, that broken equipment is worth repairing. The great challenge currently is a lack of the skilled personnel, such as biomedical engineers, to carry out the work.
To address this need, in 2011, Makerere University started a bachelor's degree program in Biomedical Engineering which aims to equip students with the skills to manage medical equipment, and design and develop solutions to the health challenges. Taking this mission further, MUBESA acts as a platform through which students can practically apply what they learn in class through hospital outreach and other projects to connect students directly with Uganda's healthcare system and needs.
The EWH Chapter President, Kyagulanyi Ally writes, "The very first BME-HOP was conducted at Kawolo Hospital in Buikwe district in 2015. The project featured 35 biomedical engineering students of Makerere University, 4 biomedical students of the University of British Columbia, and 7 biomedical engineering lectures and professional engineers. The project involved repair, maintenance, and user training on most medical equipment. 45 pieces were presented to us as faulty and 36 of these were returned functioning." Professional engineers and teachers are always included to guide students and to ensure the quality of repairs made. Ally notes that, because the hospital technicians were not trained on medical equipment, user error is often responsible for the equipment breaking down. Providing training to the hospital staff is an especially important aspect of BME-HOP.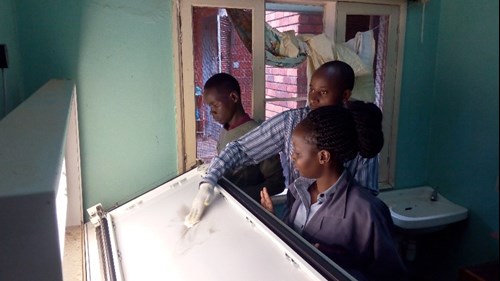 MUBESA and EWH-MAK has since carried out BME-HOP at Iganga and Entebbe Hospitals in 2016, and at Masaka Regional Referral Hospital and Kitovu Hospital in March 2017.
BME-HOP brings together hospital physicians, practicing biomedical engineers and professors, and biomedical engineering students through brainstorming to solve medical equipment challenges. Through this collaboration, the project leads to a decrease in number of equipment failures and breakdowns in Uganda's hospitals.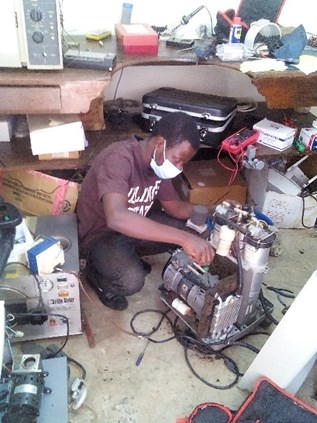 For BME-HOP 2018, on March 1 and 2, MUBESA and the EWH Chapter will visit two hospitals over two days to repair, maintain, service, and calibrate equipment, and to conduct user training with the hospital staff. Hoima Regional Referral Hospital is the referral hospital for five districts, and is located 123 miles north-west of Mulago National Referral Hospital, Uganda's largest referral hospital. Kiboga General Hospital is in the Central region of Uganda and serves parts of six districts, and is located 75 north-west of Mulago.
Hospital outreach helps increase the visibility of biomedical engineering and the solutions it offers to healthcare challenges, while also getting students into the field to gain hands-on experiences. Projects like BME-HOP provide local, sustainable support to improve the functionality of medical equipment and, therefore, to improve access and quality of healthcare overall.