Makerere University's Biomedical Engineering Freshman's Challenge
Written in collaboration with KYAGULANYI ALLY, President of the EWH Makerere Chapter.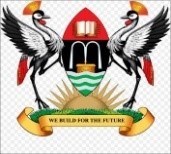 Each year, the Makerere University Biomedical Engineering Students' Association (MUBESA) and the Makerere EWH Chapter in Uganda come together to welcome the new students of the Biomedical Engineering program with the Freshman's Challenge. This challenge brings first year students together to explore a given healthcare challenge and develop solutions.
This year, the 4th Annual Freshman's Challenge focused on the theme, "innovative health technologies to impact maternal and infant health."
Citing the World Health Organization, the Freshman's Challenge described the problem:
At present, many scientific, social, economic, and technological advances have been made in health care. Yet every day, nearly 1,000 women die from pregnancy-related complications and child birth, most of them in Sub-Saharan Africa. For every maternal death, another 30 women suffer long-lasting injury or illness that can result in lifelong pain, disability and socioeconomic exclusion. And every day, about 10,000 babies aged 28 days or younger die. This situation is unacceptable, as most of these deaths can be prevented.
New strategies must be implemented to support the lives of these children and mothers, especially in low-resourced settings.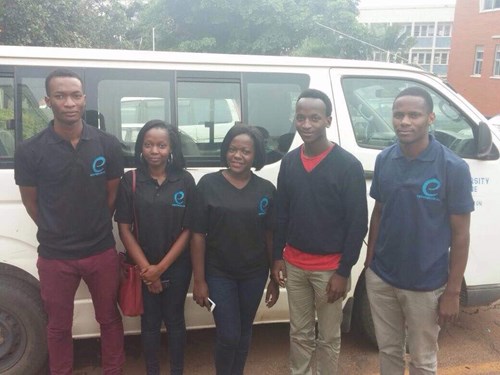 Makerere University's EWH Chapter Officers
That's where the Freshman's Challenge teams come in.
The main objective of the Freshman's Challenge is to bring out innovative ideas from all participants, who are required to develop maternal, newborn, and/or infant health interventions. Additionally, the challenge aims to introduce first year students to the role of biomedical engineers in the community by introducing them to the challenges of healthcare systems and teaching them to find solutions.
This year, six groups of first year students participated in the Freshman's Challenge. Each group had six first year members, for a total of 36 participants, and each group had a senior student who mentored them. 150 people attended this year's Freshman's Challenge presentations, including lecturers, professors, companies, and students from Makerere University College of Health Sciences.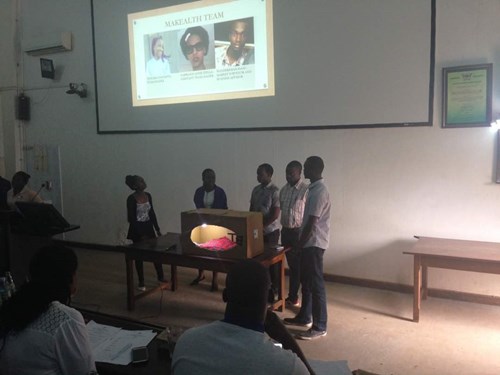 Incubox Team Presenting Their Design
This year's teams presented the following designs:
Incubox/Mak Health
Ectoscope
Post-Partum Hemorrhage (PPH) Prevention
Foot Knee Brace
Oxy Vent
Kick Counter
The entries are judged on several criteria, including health impact, innovation, and how well developed the solution is. The Incubox Team won first place. They explained the problem and their solution:
"Due to alarming cost of incubators, many Ugandan health facilities are unable to own an incubator, hospitals at levels of regional referral and health center fours are the only ones which have incubators. As the Mak Health team of six First Year Students of Makerere University, we came up with an idea of the INCUBOX that will be an affordable, reliable, and portable neonatal incubator. It consists of locally made basket, bulbs, sponge, switch, and wire mesh. … Maintaining a baby's temperature during transit (in an ambulance) to another health facility with modern incubators will save the lives many babies that die in transit to hospitals with neonatal incubators.
The winning teams received monetary and material awards. The students with the best projects also received help through a mentorship program to develop their projects further. Other presented projects have the opportunity to work with the Makerere-EWH design club.
The mentorship program also assists first year students in beginning their designs and putting together their presentations. Mentors include lecturers, professionals, more advanced students, international students, professionals, and alumni. These people work with the candidates in coming up with presentations and prototypes for the final day of the challenge.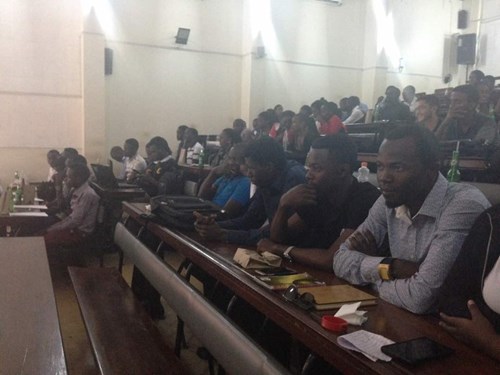 Audience Enjoying Design Teams' Presentations
After the Freshman's Challenge, Makerere-EWH follows up these projects, including looking for other design competitions where the projects may be presented. After receiving mentorship from the Makerere-EWH design club, the Incubox team improved their project and went on win Project of the Year at the university annual exhibition, CEDAT Open Day.
The EWH-Makerere Chapter has quickly become a very active and engaged Chapter. EWH is very proud of their work and can't wait to see more in the future! You can follow more of their projects on twitter: @ewhmakchapter